Iveco sold 13 'Stralis' to Özgüler Transport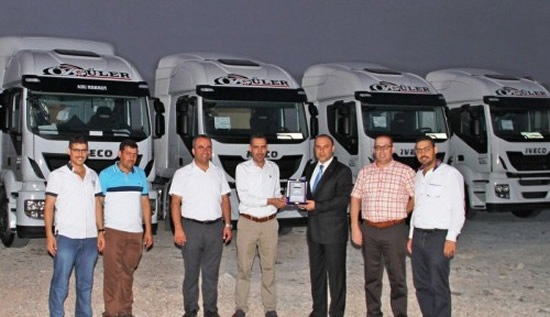 The Stralis attractors sold have 460 HP Euro 5 engines and have standard cabinets.
RAMPADE POWERFUL, FUEL SAVED
Speaking at the ceremony where the first 8 vehicles sold in Hatay were delivered, the CEO of the company, Ali Güler, said that they had used Iveco vehicles before and that they prefer to use the vehicle in addition to the renewed comfort equipment, lack of injector problem, strong and fuel saving on the ramp, 450 thousand kilometers of the guarantee was effective. Ali Güler said that they are working in the Middle East market, especially in Sudi Arabia, with mega tent and flat tent.
Törende Iveco Regional Sales Manager Murat Aydoğan stated that our fleet sales, which have increased rapidly, as well as our former fleet customers are pleased to choose us again. At the end of the ceremony, Murat Aydoğan gave a plaque to the owner of Özgüler International Transportation, Ali Güler, in memory of his day.
ÖZGÜLER HAS 55 PIECES IN FİLOS
Özgüler International Transportation, founded by Ali Güler, Abdurrahman Güler, Mehmet Nuri Güler, Abdulkadir Güler and Ömer Güler in 2006, is starting with 5 vehicles in its establishment. Özgüler International Transport currently has 55 vehicles in its fleet.